Phu Jan is one of the 7 Karen Tribe elephants, living in a small village in North of Thailand. Phu Jan is 37 years old, he is the biggest one in the family and weights around 4500 kilos. You might have been lucky (like me) to meet Phu Jan, see his clumsy moves and even experience his big appetite for bananas.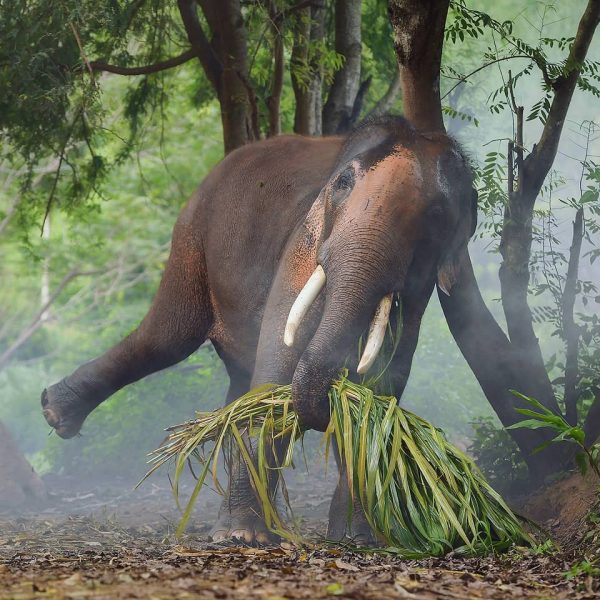 Phu Jan is enjoying his meal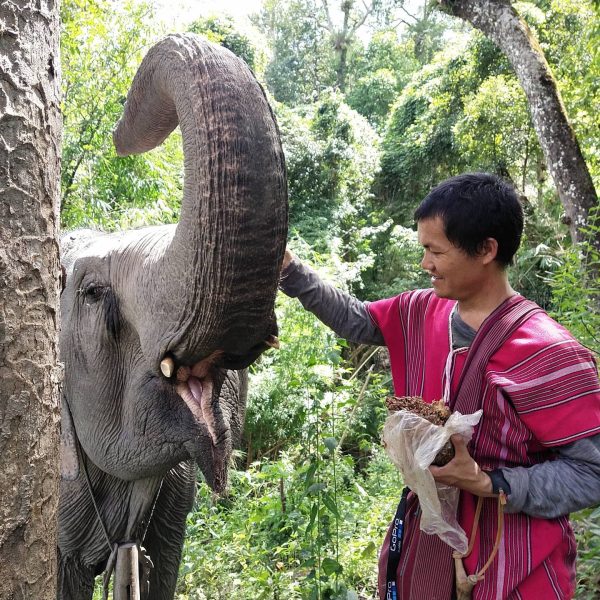 David with Sun, the owner of Karen Tribe Experiences
Phu Jan has a lot of friends. He loves kind people and under normal circumstances, at least 5 people visit and get to play with him, but in the last few months Karen Tribe had zero visits…
While politicians, media, celebrities are sharing the news about how COVID-19 is impacting thousands of people worldwide, I wanted to draw a bit of attention to forgotten ones, to our big-hearted elephants like Phu Jan. How does the virus affect the lives of elephants in the Karen tribe? And most importantly – what can we do to help?
Karen Tribe Elephants don't have duties like riding tourists or posing for photos, they are an integral part of local village life in Thailand. When you visit the Karen Tribe, you learn about elephant health, signs of happiness and sickness, how to chop some trees, make nutritious vitamin balls and work for an elephant (not the other way around). In this way you understand what it takes to take care of 7 elephants.
The Karen tribe is one of the oldest and last-remaining hill tribes, where humans have been providers, friends and loyal companions throughout elephant lifetime. And I really want you to know the difference, since there are many mistreated elephants in Thailand and COVID has impacted both: ethical tribes like Karen and businesses that see elephants as money-generating objects. I have visited Karen Tribe myself and saw genuine care and unconditional dedication to these wonderful animals.
How did COVID-19 affect Karen Tribe?
It's been a year we'll never forget. While lack of tourism might actually be very positive for Thailand in some ways, the Karen Tribe family and mahouts (elephant caretakers) rely heavily on the income they receive from individuals (like me and you) visiting their elephant family. While we can all postpone trips, elephants still need to eat 🙂 Here are a few facts to consider:
Around 200 individuals might visit the elephant family in 1 month. That helps the Karen tribe to provide food, vitamins and feed their Thai families. 
Phu Jan, for example, eats around 1/10th of his body weight a day. That means 450kg of food (bananas, trees, mangos, vitamin balls) and 50 gallons of water daily.
Feeding one elephant a day might cost around 500 Thailand Baht (that's around 15 euros). Feeding 7 elephants a day equals to 105 euros a day. It might seem little for you, but that's a lot  of money for a Thai family.
Despite the challenges, Karen Tribe is trying to hold on, but a small contribution from you would greatly help Phu Jan and his elephant family keep both Karen Tribe and educational work alive.
Share this story to spread the word
Know someone who could help? Get in touch with us!
Donate to the Karen Tribe on Paypal (karentribenativeelephants@gmail.com) every little counts. Don't know how much you should donate? 🙂 15€ is a one-day meal for 1 elephant. There are 7 elephants in the Karen family 🙂 The rest of math is pure generosity 🙂
As World Wildlife Day exclaims "the future of elephants is in our hands." Humans, we now defer to you. What we do, how we treat other species does matter. It is a representation of who we are, our humanity, and how we would want to be treated.
Author Vaida Pakulyte Our Elephant Ambassador and friend
Go to paypal.com, select 'Personal' and 'Send Payment' using the email address Karentribenativeelephants@gmail.com or Click Donate Button Donate with PayPal